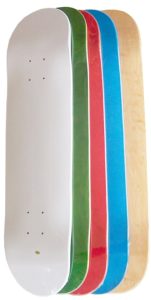 First of all, I just want to say, I am a real person and this is based on my real experiences.  I only say this because I have read some other articles similar to mine and you can tell that something is just not right about how they are talking about skateboarding….it sounds like some kind of computer is writing the article and that just drives me nuts.  It's simply not fair to the person who is researching and seeking help on purchasing blank decks.  Anyways, I hope to get more helpful information on this site about blank decks.  I haven't been actively skateboarding in about a decade due to physical health but I did love these decks.  I have one that I didn't skate at all and used it for autographs of my skateboard idols like Christian Hosoi and Mike V.  I still have two of these decks around my house from when I had my son design his own griptape pattern and I think the other one is just an old deck of mine I had pieced together for my daughter to ride when she was younger and interested. 🙂  Now onto the review…
Back when I was searching for decent blank skateboard decks that didn't drain my wallet, I purchased and tested blank decks from many sources online and in local skateshops. Some were just horrible pieces of garbage. I mean literally a piece of crappy plywood in the shape of a skateboard. Just ridiculous really. Sometimes that is the risk you take with online purchases and only going by a picture and description to gauge the quality of the product.
I first found a cool supplier of blank skateboard decks on ebay. His store was something like SlamNcity skates or something like that. I'd always order the 5 pack of either dipped blank decks or stained blank decks made by a company called Litezpeed. They are still around but it looks like they stopped selling blank decks and focus now on other things.
I kept looking around and found another company selling blank decks on Amazon called Moose. Their decks are your usual 7 ply hard rock maple and very similar to the LiteZpeed decks I loved off of ebay.  I highly reccommend these blank decks from Amazon.  Depending on the size deck you skate, prices on 5 of these decks usually range from a little under $100 to $125.  So that is between $20 and $25 dollars per deck!  Great deal in my opinion.  But I know we all go through boards at different rates so I recommend you give these a try once with the regular grip it comes with and see what you think.  You might just have found your new favorite blank deck!
Moose Blank Skateboard Decks
What you get in the box:
You get a set of 5 blank decks in assorted colors, sometimes in shrinkwrap (mine were).
You get a roll of 5 sheets of griptape for each of your decks.
Pros:
I love getting a shipment of 5 blank decks in a box.  For some reason, my reaction is like when you are a kid and get a whole bunch of candy for Halloween!  It's just an awesome feeling.
Skating the same type of deck really helps with consistency in your tricks.  You don't have to get used to a different deck, so there is no break-in time!
You can set up multiple decks for different terrains if you skate vert, street, park, cruiser, filming, etc…
Sometimes at the skatepark, people would break their deck and I would offer to sell them one of my extra blanks out of the trunk of my car.  I only did it a couple times, but you could charge a little more and make a little profit providing this convenience of not having to go all the way to the skateshop to get  a new deck!
Cons:
These decks have a slightly larger nose than the tail.  I just got used to it like many others have.
The grip may not be the kind of grip you like.  It worked fine for me, but I know some people have their favorite grip tape and if that's the case, you can always add to your amazon shopping cart your favorite brand grip like Mob and Jessup.
Check Prices on Amazon for 7.5 inch Moose Blank Skateboard Decks (5-pack)
Check Prices on Amazon for 7.75 inch Moose Blank Skateboard Decks (5-pack)
Check Prices on Amazon for 8 inch Moose Blank Skateboard Decks (5-pack)
Check Prices on Amazon for 8.25 inch Moose Blank Skateboard Decks (5-pack)
Please follow and like us: